Surf epic Maldives waves
From Club Med Kani, all-inclusive holidays
Imaging waking up to a turquoise paradise, grabbing your board and heading for an epic surf on world-class waves… welcome to Club Med Kani, Maldives! Discover the Maldives' famous surf spots located just a few paddles away from Club Med Kani while enjoying all-inclusive holidays with the surf package.
The surfing season starts end of May and finishes end of October with the biggest waves between July and August.
Why surf in the Maldives?
A surf destination on the rise, the Maldives provide a great range of left and right reef breaks which will leave any surfer super stoked. and. A bit more forgiving than Indonesia or Tahiti, Maldivians reef break still suit best the intermediate to advanced surfers. Waves can range from a mellow 2 feet during the surf season (May-October) to a whopping 15 feet during the highest months (July-August), best for the brave at heart! During the dry season of November to February, there might still be some waves around but won't be the main swell period – so pack a board just in case of a nice surprise swell, get some snorkeling or diving and spend some nice time with friends and family.
Surfing spots near Club Med Kani
For a sun, salt and surf-induced smiling experience, the Ninjas surf spot is only a few minutes away from Club Med Kani, offering perfectly-shaped waves and enough breaks for everyone to enjoy. Plus, access to many more famous surf spots from Club Med Kani including epic right breaks like Sultan, Jail's, and Chicken, plus left breaks like Honkey's and Coke's. Note also that those spots are accessible from Club Med Finolhu Villas with a complementary 5-minute speedboat.
For maximum fun and minimum logistics, our crew can organise speedboats to get you quickly and safely to the best spots depending on the conditions. Our surf packages run from 4 to 6 outings per week.
"Is it possible to paddle from the resort?'
It is possible for an average or good surfer and will take approximately 5 to 10 minutes. However it is at your own risk. For guaranteed security, we advise you to take the boat outings instead. If you still want to paddle to the break, we strongly advise to bring your own booties to avoid any injury from the reef. Booties are not sold nor available for rent at Club Med Kani.
"I am staying in the Finolhu Villas, can I still go surfing?"
You definitely can! By staying in the Finolhu Villas, you have access to a complementary 5-minute speedboat to Club Med Kani where you will have access to the speedboats taking you to surf on the Ninjas Break.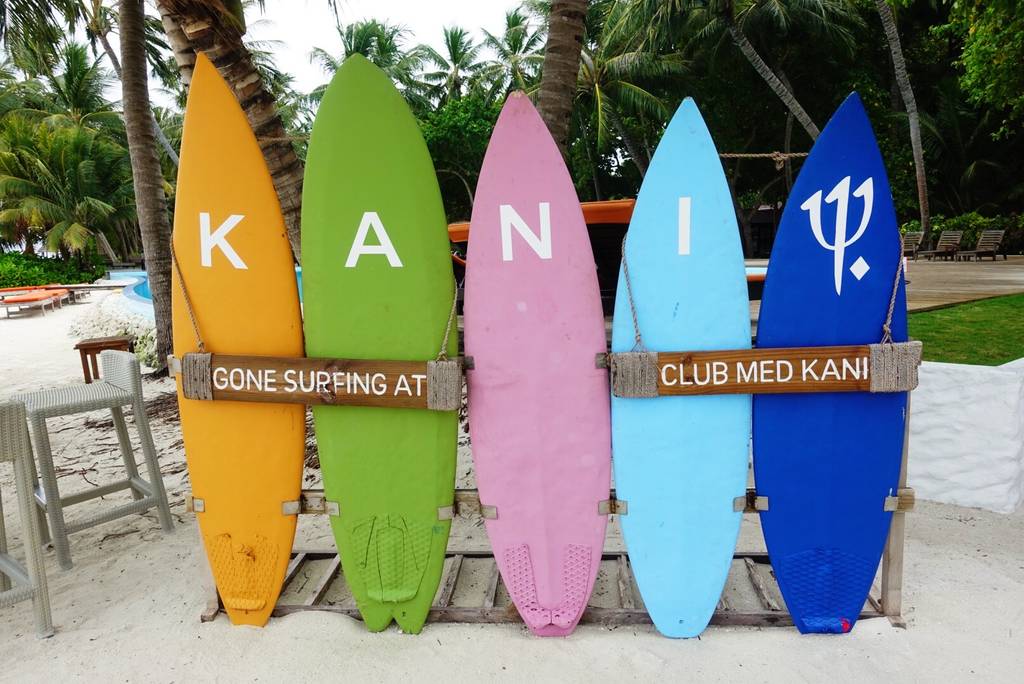 You can hire or bring your own board. We would advise you to bring your own board if you are a proficient surfer for best experience in the Maldives. However, if you'd like to hire, we have a total of 7 boards available from 6'8 hydrofish board to 9'0 longboard.
We can have up to 10 people on the speedboat with a requirement of 4 persons minimum to go out. During surfing season, it is best to pre-book.
We provide water and also have a first aid box on hand if needed. However, we won't have any rash shirts, wetsuits or sunscreen so make sure to bring those with you. Rash shirts might be available for purchase at Club Med Kani boutique but best to pack some before arriving!
Surfing spots accessible from our 2 resorts: